Lake Shore Cryotronics Appoints New Chief Revenue Officer
2018-07-01 12:00:00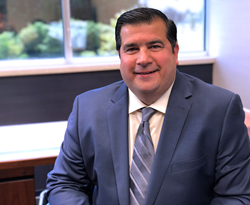 Lake Shore's New Chief Revenue Officer, Dan Faia
"I am excited to have Dan join our leadership team," said Michael Swartz, Lake Shore President & CEO. "Bringing Dan on board is an investment in Lake Shore's growth goals. I believe he has the experience and leadership skills to very effectively lead our global sales and marketing efforts."
COLUMBUS, Ohio July 01, 2018
Lake Shore Cryotronics, a leading innovator in solutions for measurement over a wide range of temperature and magnetic field conditions, has appointed Dan Faia as the company's Chief Revenue Officer (CRO).
In this role, Faia is responsible for executing an overall sales, marketing, and customer service strategy for Lake Shore and will be working with the company's executive team in implementing a long-term business plan to better serve the evolving needs of the worldwide research community.
Faia brings more than 25 years of experience to Lake Shore, including as a strategic sales executive for leading suppliers of test and measurement technology to users in academia and the electronics industry.
From 2004 to 2009, he was Vice President of Global Sales & Marketing for Eagle Test Systems, with a specific focus on increasing sales of high-volume, automated test equipment for the semiconductor test industry. Following the acquisition of Eagle Test Systems by Teradyne, Faia became Vice President of Global Sales & Support for Keithley Instruments from 2009 to 2012, developing sales and service organizations for Keithley's electrical test and measurement instrumentation and system lines.
Faia also served as Vice President of Global Sales for Red Lion Controls from 2012 to 2015, overseeing strategic sales of industrial automation and networking solutions, before becoming Executive Vice President for Datix, an enterprise software consulting firm. Most recently, he was a senior executive with startup Eagle Acoustics Manufacturing, responsible for implementing a go-to-market strategy for its consumer speaker technology.
"I am excited to have Dan join our leadership team," said Michael Swartz, Lake Shore President & CEO. "Bringing Dan on board is an investment in Lake Shore's growth goals. I believe he has the experience and leadership skills to very effectively lead our global sales and marketing efforts."
For more information, visit http://www.lakeshore.com.
About Lake Shore Cryotronics, Inc.
Supporting advanced research since 1968, Lake Shore Cryotronics is a leading innovator in measurement and control solutions for low temperature and magnetic field conditions. High-performance product solutions from Lake Shore include cryogenic temperature sensors and instrumentation, precision current and voltage sources, magnetic test and measurement systems, cryogenic probe stations, and materials characterizations systems for exploring the electronic and magnetic properties of next-generation materials. Lake Shore serves an international base of research customers at leading university, government, aerospace, and commercial research institutions, and is supported by a global network of sales and service facilities.
For more information, visit http://www.lakeshore.com.