CARS Launches Initiative to Increase Sustainable Revenue for Nonprofits
2018-07-01 12:00:00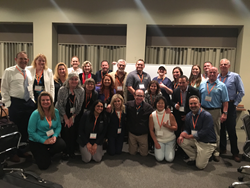 CARS Futures Symposium 2018
"Our objective is to continue to grow the CARS' platform beyond the automobile and we have already been involved in a few small acquisitions that may eventually see our business providing the same level of revenue support in ways we have yet to discover." - CEO Howard Pearl
SAN FRANCISCO July 01, 2018
In the next few decades, America's relationship with the automobile will likely change with the advent of driverless cars and other emerging transportation technologies, and so too will the landscape for the vehicle donation fundraising programs that generate tens of millions of dollars in revenue annually for nonprofits and public media outlets.
That was one of the key points of a recent Futures Symposium convened by Charitable Adult Rides & Services (CARS) in San Francisco as part of its new initiative to explore the fundraising revenue opportunities that new transportation technologies will provide to nonprofits.
"As an organization with a mission to ensure the sustainability of our nonprofit and public media partners, it is incumbent upon us to be prepared for this change," said CARS CEO Howard Pearl. "We need to be looking 8-10 years out at the predicted major changes and thinking about how our industry should adapt to ensure that the work of our extraordinary partners continues to be supported. That's why we put this initiative together."
The one-day symposium on June 18th brought together CARS' partners from top nonprofits like St. Jude Children's Research Hospital, Sierra Club Foundation, and Make-A-Wish Foundation, and leading public media – including NPR, Greater Public and PBS SoCal – to learn about and discuss the impact of future transportation technologies.
Keynote speaker Tony Seba of the technology disruption think tank Rethink X enlightened attendees on the changes he predicts will occur as a result of technology convergence. For instance, he noted, "In China next year, they are coming out with a car that is a smaller version of the TeslaX that's only $36K. At this accelerated rate of price adjustment, by 2020, you will be able to buy smart vehicles at 20% less. There will be all new electric vehicles on the road."
Participant Mackenzie Cane, Director of Business Partnerships for the Sierra Club, emphasized the importance of vehicle donations, saying they are "…by far one of the most financially beneficial partnerships that we have, and they bring in a lot of revenue for our chapters to support their local initiatives."
She continued, "The fact that this [Futures Symposium] is being put on by one of our partners, and that CARS is thinking we need to gather nonprofits for nonprofit innovation, that's super cutting-edge. None of our other partners do that."
In collaboration with KQED Lab, a leading-edge innovation generator program at San Francisco's leading public media outlet, the day concluded with participants working together on a design thinking challenge.
This is the first of several events in CARS' new initiative, which aims to generate new ideas and channels for sustainable revenue for nonprofits over the coming years.
"CARS' job is to stay ahead of the changes that are coming and be prepared for how these new key technologies will impact our business," said CEO Pearl. "Our objective is to continue to grow the CARS' platform beyond the automobile and we have already been involved in a few small acquisitions that may eventually see our business providing the same level of revenue support in ways we have yet to discover."
You can join the conversation on social media using these hashtags:

#CARSFuturesSymposium2018
#FutureOfFundraising
#NonprofitFundraising
#SustainingPublicMedia
#VehicleDonationDisruption
You can also connect with our organization on social media:
Facebook: facebook.com/carsorg/
LinkedIn: linkedin.com/company/charitable-auto-resources
Twitter: @charitableauto
ABOUT CHARITABLE ADULT RIDES & SERVICES (CARS)
CARS is a 501(c)(3) Social Enterprise nonprofit based in San Diego, CA. Established in 2003, CARS first began as a means to provide additional funding to the programs and services of Jewish Family Service. What began as a company of just a few employees accepting around 3 vehicle donations per day, has grown into a well-respected leader in the car donation industry, now supporting over 3,500 nonprofits across North America through donated vehicles. In 2017, CARS became ISO 9001 Certified, adopting a higher standard for quality management systems and turning the company culture into a more process driven organization. The CARS Team now successfully processes over 100,000 donated vehicles annually—returning more than $170 million to nonprofits. Learn more at http://www.careasy.org